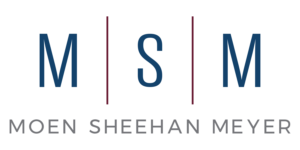 MSM Gives Back:
Supporting our communities
Thank you for voting! Learn more about the organizations we support here.
Need legal help? Moen Sheehan Meyer is a full-service law firm and for more than 150 years, clients have been relying on our expert attorneys to navigate legal issues large and small.
Our team provides tailored, comprehensive legal solutions to help you achieve the results you're looking for, delivered with unmatched service, responsiveness, and professionalism.
We offer expertise in the following areas: